Refer a Friend to ResBook
If you love what ResBook does for your business, chances are your accommodation friends will too. Refer a friend and you'll receive one month off your own ResBook subscription for every successful referral. It's a WIN-WIN!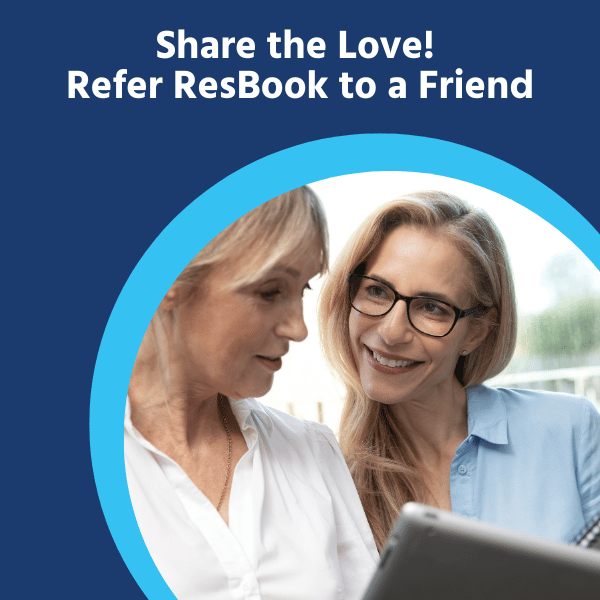 Here's How It Works To Get a Month Free
Get chatting about ResBook with your accommodation friends. If they are interested, just click the button below to share their details with us.
We will make contact and discuss the benefits of ResBook for their business.
Once they sign up and get started with ResBook we will give you a month off your monthly subscription!
There's no limit on how many you can refer! Get a month free for every successful referral!
ResBook has been brilliant to deal with. From setting up our booking system and also creating our website, they have made it really easy for me, and I'm not tech savvy at all. Priyanka and Estelle especially have been an amazing help.
Amber Tyrrell, Valley Views Glamping
ResBook has enabled us to streamline different booking channel managers and made it much easier for us to take direct bookings.
Trish Delamore, Lavender Hill
ResBook has been the perfect fit for our business, the system is easy to use and navigate and has many wonderful features that allow for quick look ups and amendments. The customer service team is quick to respond and can offer advice and solutions to all my queries, which is brilliant.
Sarah Smith, Fallow Ridge Retreat
The booking calendar has all the information we need. It is very responsive and easy to use. Really appreciate that problems are fixed quickly by ResBook staff.
Caroll, Tekapo holiday Homes
READ MORE