Customer Spotlight: Valley Views Glamping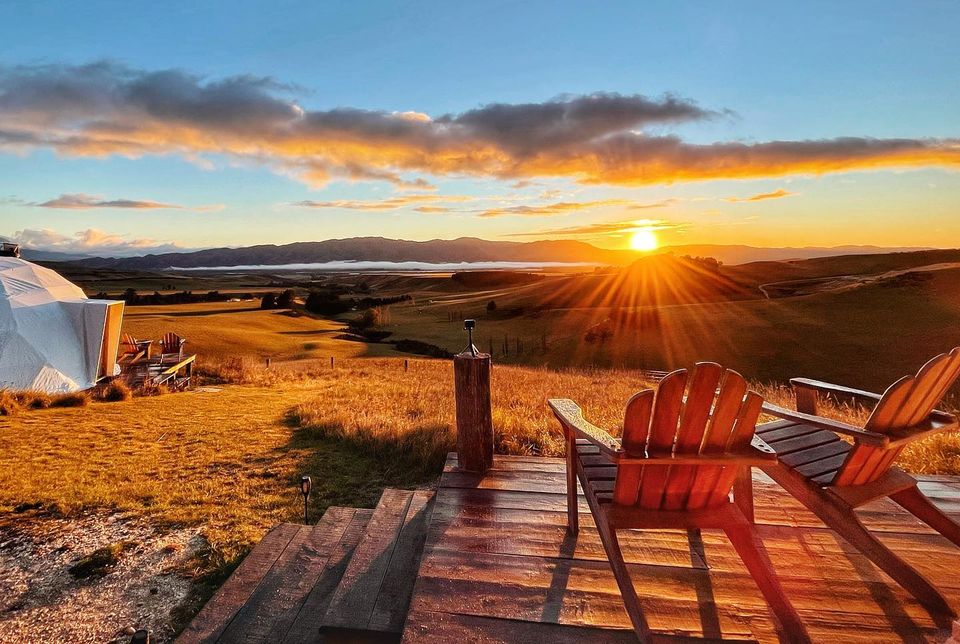 Amber from Valley Views Glamping shows her obvious love of hosting guests at her wonderful and remote property in the Waitaki Valley of Canterbury and has happily shared some wonderful insights in to her business and using ResBook.
ResBook: What is one piece of advice you would give someone who is looking to start an accommodation business?
Amber: It's all about the hosting! When we started our glamping business, we knew that it would appeal to people because we have amazing views from our property, and if you have great views, you are halfway there.
What has surprised me the most though, are the reviews we receive which are overwhelmingly positive about our hosting. We make a connection with our guests starting with the email exchanges (it's so important to answer emails and messages quickly), we have great chats with people when checking them in and while we are washing dishes in our communal kitchen/dining area at breakfast time.
When you make a connection with your guests you are creating a human experience they won't forget and everything else is a bonus. We have been invited to stay with people from all over the world and NZ. Hosting is such an important part of a successful accommodation business.
ResBook: How has ResBook helped you and your business?
Amber: ResBook has been brilliant to deal with. From setting up our booking system and also creating our website, they have made it really easy for me, and I'm not tech savvy at all. Priyanka and Estelle especially have been an amazing help.
ResBook: What is your favourite feature guest stories?
Amber: I could write a book about guest stories having had more than 8,300 guests stay here! One of my favourites is when Rod Drury (founder of Xero and one of NZ's billionaires) came to stay with his partner and teenage children. Rod booked our deluxe dome for him and his partner, it was autumn and sometimes we have the odd mouse venture into the dome at that time of year. I got a text from Rod at about 6pm saying there is a mouse in the dome, and do we have a cat. Patrick picked up our cat under one arm and strode out the door with the cat growling, while I text Rod back and saying he is on the way with the cat. Patrick knocks on the door of the dome announcing that pest control is here. Rod was sitting in the swing chair with his feet up, Patrick released the cat, she swiftly grabbed the mouse in her mouth, Patrick picked her up, she released the mouse, and it ran off (still in the dome). He ended up leaving the cat there for her to catch it and she turned up back at the house about 9pm after completing her mission and Rod had let her out. This has never happened before or since, so why did it have to happen when Rod Drury was here?! He loved the experience though and was going to tell his friends to come and stay.
ResBook: If ResBook could solve one of your business challenges what would it be?
Amber: We love the Voucher module which we have integrated on our website. I would also love it if people could book through the website with a voucher. We have many people calling to say they tried to book but couldn't find where to pay using their voucher.
We are happy to provide Amber with a solution for her challenge so she can enable Vouchers as a form of payment in ResBook. If you would like this option please see our ResBook knowledge base "Vouchers as Payment" section.
"As B&B operators, ResBook offers an easy to use navigation system, enabling us to track all bookings from enquiries to final payment & thank-you emails. Using ResBook has increased our reservations and given us peace of mind operating our B&B."
Fay & Lindsay Turner, Finlay Banks Boutique Bed & Breakfast
The booking calendar has all the information we need. It is very responsive and easy to use. Really appreciate that problems are fixed quickly by ResBook staff.
Caroll, Tekapo holiday Homes
ResBook has been the perfect fit for our business, the system is easy to use and navigate and has many wonderful features that allow for quick look ups and amendments. The customer service team is quick to respond and can offer advice and solutions to all my queries, which is brilliant.
Sarah Smith, Fallow Ridge Retreat
ResBook Customer Support, namely Priyanka, has been an amazing help throughout the entire process of bringing our business to life."
Liz Hayes, Nest Treehouses
READ MORE