5 Things That Make a Great Accommodation Website
View the 5 key ingredients to please your potential guests while also ensuring you are pleasing Google too!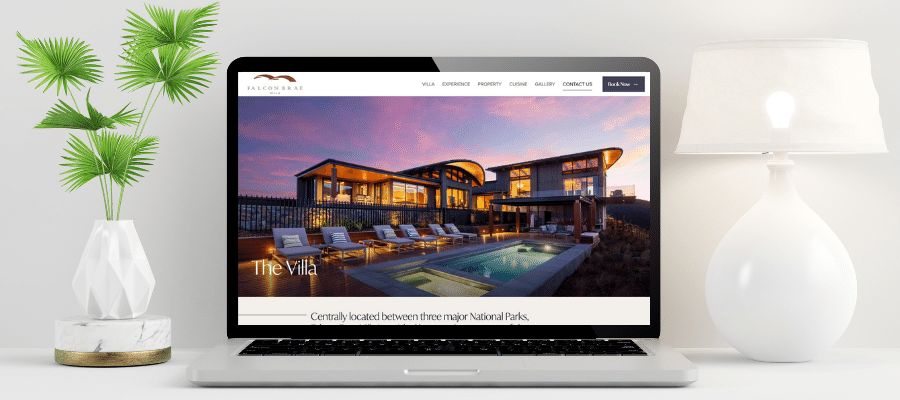 Every accommodation provider knows that a great website means more direct bookings. So what makes a great website? We have broken it down to 5 key ingredients for you to focus on to please your potential guests while also ensuring you are pleasing Google too!
It all comes down to great content and ensuring you follow the 5 Stages of Travel, especially in the dream, research, and book stages.
Here are the five MUST HAVEs for any accommodation website:
1. Enticing & emotive images & video
Images and video are your number one tool in your toolbox to attract and capture your target audience by creating an emotional connection in that key 3-second moment when your website opens.
A picture speaks 1,000 words, so what words do your images say about your accommodation?
A video speaks 1,000 images, so video is always best whenever possible.
" Viewers remember 95% of a message when they watch a video

vs. 10% when reading."
Quick Tips:
Your best image, is one that makes a viewer say 'wow.' It is called a Hero Image. This needs to be your opening image on your home page.
Even better, a short video at the top of your home page. It needs to be loaded on YouTube or Vimeo to ensure quick load speed.
Every page of your website should include quality images relevant to the content
Have a gallery of your best shots so they can easily see everything on one page as people buy tourism products with their eyes.
Find out more on how to create images that sell with this eBook to download
2. Content that converts to bookings
Knowing how to present information clearly and write content for the web is especially important in maintaining the readers' attention, answering their questions, and leading them to make a booking.
Your content and user experience should deftly guide people on a path to click the BOOK NOW button. Plan your content according to what adds value for conversions and compliments your business.
Quick Tips:
People normally just scan text content rather than read it. Include clear headings with brief sentences and bullet point lists of important information
Ensure each page has a good mix of images and text in an easy to view layout – using columns can be an effective way to present these side by side
Write in a tone of voice that suits your business persona and brand – tourism should always be inviting, friendly and professional
Prominent placement of reviews throughout the website
Include keypages that people expect onan accommodation website: STAY / ROOMS, IMAGE GALLERY, ABOUT, LOCATION, CONTACT, BOOK NOW.
Ensure the BOOK NOW is accessible on every page. There should always be a booking button at the top right of the navigation bar. Also add the button within content next to your room options
3. Online booking system
Direct bookings are the most lucrative form of booking so making it as easy as possible to book on your website 24/7 is a no-brainer. You will receive bookings while you sleep!
Quick Tips:
The Book Now button should always sit in the upper right corner
Have only 6 (or less) fields in your booking form. Statistically, for every additional field you add, there is a 20% drop-off (cart abandonment)
Don't force people in to fill out a static message form to contact you for a booking enquiry
Travellers expect to check availability and instantly book with payment/deposits made securely from your website
If you make it too hard to book when it suits them then they will turn to either your competition or an OTA website to book where you incur large commission fees
Do your research when choosing a system – look for something that caters to your size business in terms of pricing and features, allows you to adapt what features you use as your business changes, and has accessible customer support. If you're using ResBook already your in good hands!
4. Responsive & mobile friendly
Travellers use multiple devices when planning and booking a trip from desktop, to mobile to large smart TVs. It therefore goes without saying that every website and online booking system, should be responsive to different screen sizes and the many types of mobile phones.

Quick Tips:
All Tomahawk websites are designed to be fully responsive
Not only do you need to ensure that the layout is responsive but also think about what images and content work best for smaller screens - avoid too much text!
5. Google friendly & effective SEO
While the visual appearance of your website is always important, the "behind the scenes" work on SEO is a vital element to ensure your website is found. The art and expertise to ensuring your website achieves great rankings on search engines like Google, is called Search Engine Optimisation (SEO).
Quick Tips:
At a minimum, every website page needs to have meta titles and meta descriptions applied that are relevant to the page's content and are crafted using Google character best practice
Ensure your pages are all optimised to be fast loading as Google penalises the site ranking if it is considered slow
Fresh content is also an important element of SEO. A new blog each month or images shows Google that you are keeping your site fresh and relevant
Additional work on permalink URL's, image tags and page headings also enhance the SEO
Planning your website from the beginning to have all 5 of these key ingredients and tending to the website each month will mean you will create a lucrative marketing tool that will repay your investment with an ongoing flow of bookings!
ResBook has enabled us to streamline different booking channel managers and made it much easier for us to take direct bookings.
Trish Delamore, Lavender Hill
"We've been extremely pleased with the new website, ResBook and channel manager! Bookings exceeding our expectations!"
Charlie, GM, Raglan Palm Beach Motel
ResBook has been the perfect fit for our business, the system is easy to use and navigate and has many wonderful features that allow for quick look ups and amendments. The customer service team is quick to respond and can offer advice and solutions to all my queries, which is brilliant.
Sarah Smith, Fallow Ridge Retreat
"As B&B operators, ResBook offers an easy to use navigation system, enabling us to track all bookings from enquiries to final payment & thank-you emails. Using ResBook has increased our reservations and given us peace of mind operating our B&B."
Fay & Lindsay Turner, Finlay Banks Boutique Bed & Breakfast
READ MORE